From Multifamily Metal Roofs to Commercial Flat Roofing, We Have it All
Baldpates General Contracting is the one-stop shop for all your roofing needs. Whether you need a regular roof clean-up or an elastomeric coating, asphalt or multifamily metal roof, your search for the foremost roofer in metro Atlanta stops at Baldpates General Contracting. We are specialists in quality commercial roofing services, including installing flat commercial roofs of diverse types like EPDM, TPO, bitumen and metal.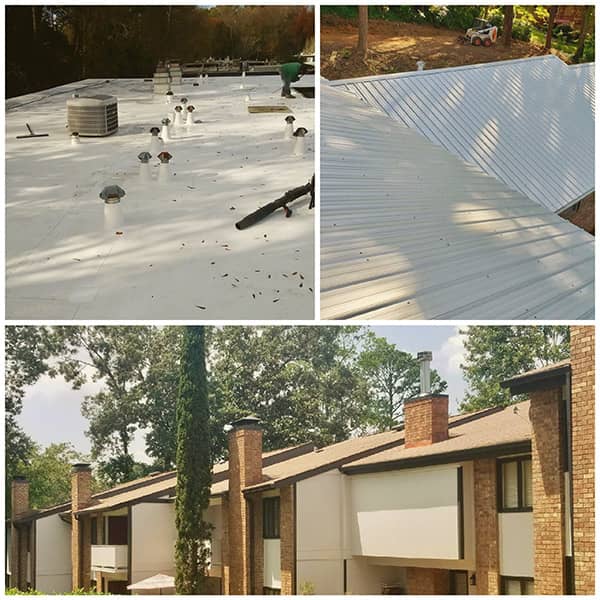 Our Roofing Services
Roof Repair
Roof Replacement
Gutter Installation
Leaf Filter Installation
Annual Roof Inspections
Storm Damage Assessment
We Are a GAF Master Elite® contractor
We are a certified roofing contractor who offers expert roof installations, repairs and replacements backed by outstanding warranties. Our team helps you with the right roof to safeguard your property while enhancing the curb appeal of your property.
Wide Roofing Choices
Our professionals use the latest roofing products and techniques to help you select the best option. We offer you state-of-the-art products from leading manufacturers like GAF, Mule-Hide, DuroLast, CertainTeed and Progressive Materials for enhanced protection, great looks and longevity.
We Are the Storm Damage Experts
Residents of the Atlanta metro area are no strangers to summer thunderstorms. Call us if you feel your multifamily metal roof has suffered storm damage, and our licensed inspectors will assess whether you need to file a claim. If you do, we will guide you through the process to your beautiful new roof.
We Provide Emergency Services
We work with licensed and insured tree removal companies to remove tree limbs and debris from your roof and secure your family's safety. Older roofs are particularly vulnerable to high winds over 40 mph, which can blow off shingles or even tear holes. If you urgently need a tarp over your damaged roof, call us and we will be happy to help.
Contact Us Today, Leave the Climbing to Us
Did you know that multifamily metal roofs come in various colors and can handle the toughest conditions? Our experts can help you decide if a metal roof is suitable for your property. Call us at (770) 728-9412 for a no-obligation consultation!